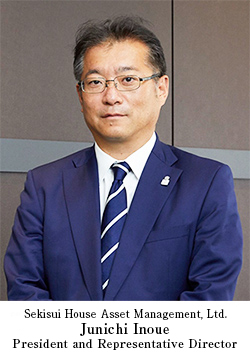 Sekisui House Asset Management, Ltd. ("SHAM") is an asset management company for Sekisui House Reit, Inc. ("SHR") listed on the Tokyo Stock Exchange Real Estate Investment Trust Securities Market (J-REIT market).
SHR, the company for which SHAM manages assets has been listed on the J-REIT market of the Tokyo Stock Exchange since December 2014 as an office REIT. SHR made a new start as a diversified REIT as a result of its merger with Sekisui House Residential Investment Corporation, a residential REIT, in May 2018.
Taking the merger as an opportunity, SHR intends to expand its asset size and bolster its presence in the market. At the same time, SHR will apply the collective strength of the Sekisui House Group to build diverse growth opportunities, secure revenues through the steady growth of its portfolio assets, and seek to stabilize and increase cash distributions.
Based on the following basic policies, SHR is aiming to develop itself together with all its stakeholders, including unitholders and corporate tenants.
▪Investment in residential properties and commercial properties with strategic locations and high quality as pillars
▪ Growth strategies applying diversified support provided by Sekisui House to the maximum extent possible
▪ The adoption of a structure that emphasizes the interests of unitholders
▪ Stable and sound financial management
Continuing its current practices, SHAM will seek to secure stable profits for SHR over the medium and long terms, realize steady growth in SHR's portfolio assets, provide social capital of high quality and maximize unitholder value going forward.
We ask for your continued support and encouragement.